Titan II ICBM Modelers Reference
Model Suppliers

Many ex-Titan II team members and just your everyday average modelers have asked me if I knew of anyone that builds Titan II ICBM (LGM-25C) configurations. Unfortunately there are no current manufacturers for kits anymore. Some of the "US and USSR Missile Display" kits from Monogram that have a 1/144 scale Titan II ICBM in the kit are still available from some hobby shops on the web. Itís just a two piece plastic model which isnít anywhere near presentation quality, but it does make a great reference for the "do it yourself" modeler wishing to cast a solid resin version. To help out all the folks who asked for a model, I have contacted many model shops to seek out possible suppliers to build both presentation and kit models. There are many that will do presentation displays, but the price is not cheap. I have contacted and worked with several model builders that were willing to build the models for me. However the quality and delivery time was not sufficient. As a result I have decided to build the models myself. The model is 1/144 scale . This will make the missile about 8.5 inches tall, and 1 inch in diameter (see pictures below). Great for the desktop. Please contact me directly at boelling@teleport.com. for orders or questions about a Titan II ICBM model.

Titan II Model Walnut Base - $140 + $10 SH
Mounted SAC emblem is now included.
Custom nameplates are also available for an extra charge.

Shipping charges may vary outside of continental US. A $5 donation from every sale goes to the Titan II Museum in Green Valley Arizona.
Titan II ICBM Display Model
I am not a professional photographer. These were taken with a standard pocket 35mm camera.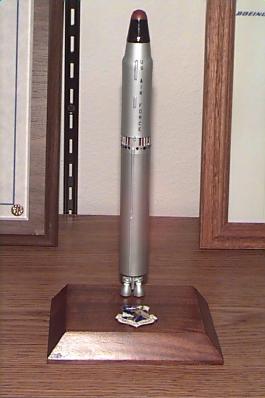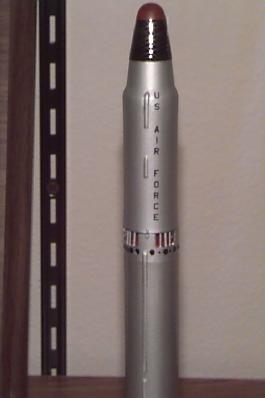 Titan II ICBM Kit

Glenn Johnson owner of RealSpace Models makes resin kit models of spacecraft. Glen has converted a 1/144 scale Gemini Titan II to an ICBM configuration. RealSpace can now supply an inexpensive resin Titan II ICBM kit for about $25. Please check out his web site at http://www.realspacemodels.com/.




Nick Proach Models is another model builder that can build the Titan II display model. He will also consider building larger scale displays. Custom painting and detail work is also available. Nick has a great web site at http://www.spacemodel.com/.

Modelers Reference Drawings

The drawings below have been provided by Pete Alway, from Saturn Press . Saturn Press publishes books, color photos, and posters of rockets. A must for the model rocket enthusiast. To review some of the products from Saturn Press click HERE. To obtain a free catalog, send Email request to Pete Alway.


Dimensional drawing. Click drawing to download.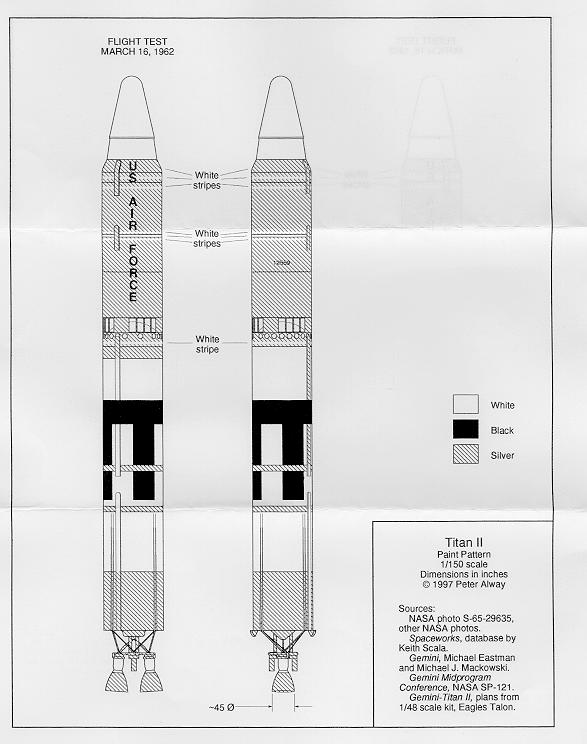 Paint Pattern drawing. Click drawing to download.



Titan II Home Page